How have Finnish public firms and SMEs performed in Q1 2023 & outlook forward
As the leading local strategy consultant, August Associates is publishing a report that summarizes the financial performance of Finnish publicly listed firms and SMEs during FY2022 and Q1/2023. The report focuses on analyzing industry-specific trends in revenue and profitability development. For SME companies, the analysis is based on Accountor's real-time financial data from approximately 10 000 SMEs. For large caps, we use financial information reported by publicly listed companies listed in Nasdaq Helsinki. Report is available in Finnish. 
Download the latest report HERE.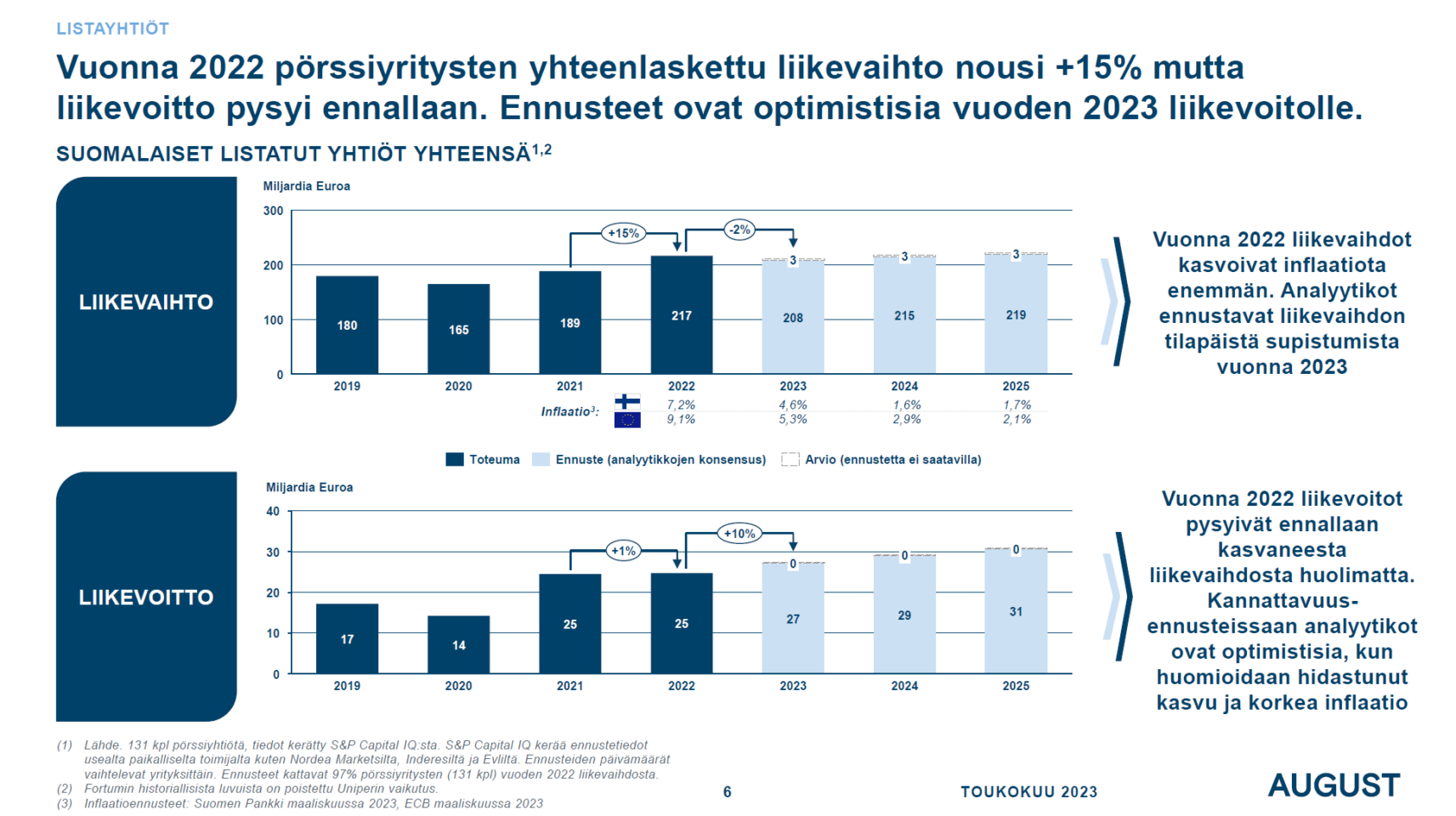 Highlights for 2022: 
Finnish listed firms had an exceptionally strong year 2022 in terms of revenue growth (+15% from 2021) while operating profits remained almost stagnant (+1%) 

 

Forestry and Basic materials were among the best performing industries and managed to grow both their revenue and profitability

 

Construction was the only industry with shrinking revenue 

 

Transport and Real estate suffered from negative operating profits

 

SMEs' profitability seems to have declined in almost all industries as companies' purchases have grown at a higher rate than their revenues.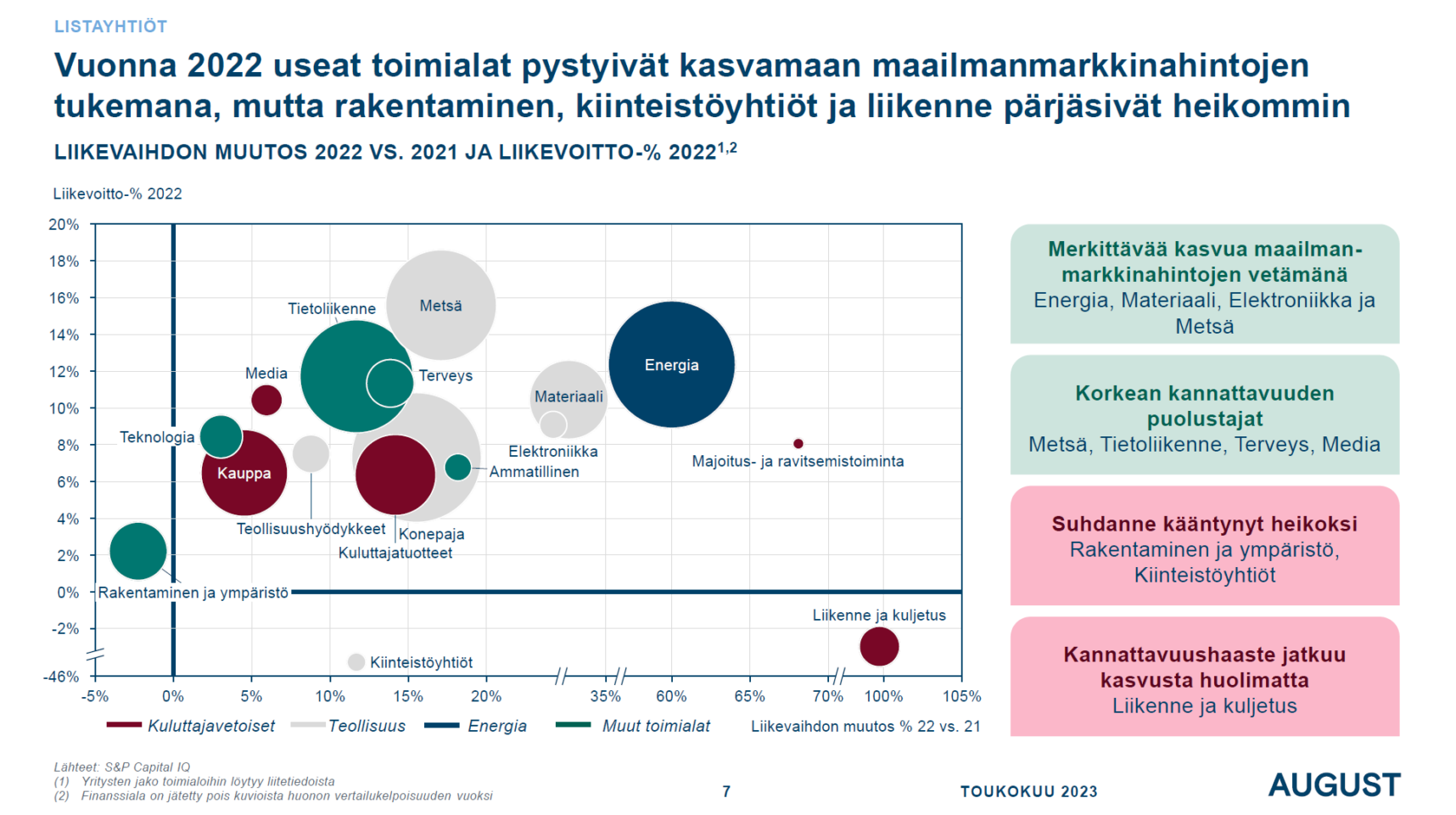 Performance during Q1/2023 and estimates forward: 
Based on the Q1/2023 results published thus far, revenue growth has continued but the aggregate profitability of Finnish firms has turned on a decline

 

The decline in profits has been most prominent in Media, Forestry, Professional services, Consumer goods and Telecommunications

 

Despite the realized revenue growth in Q1/2023, a

nalysts expect revenues to decline in

2023

 

In contrast to the profit decline in Q1/2023, analysts estimate aggregate profitability to improve in 2023, which seems optimistic considering the revenue decline and cost inflation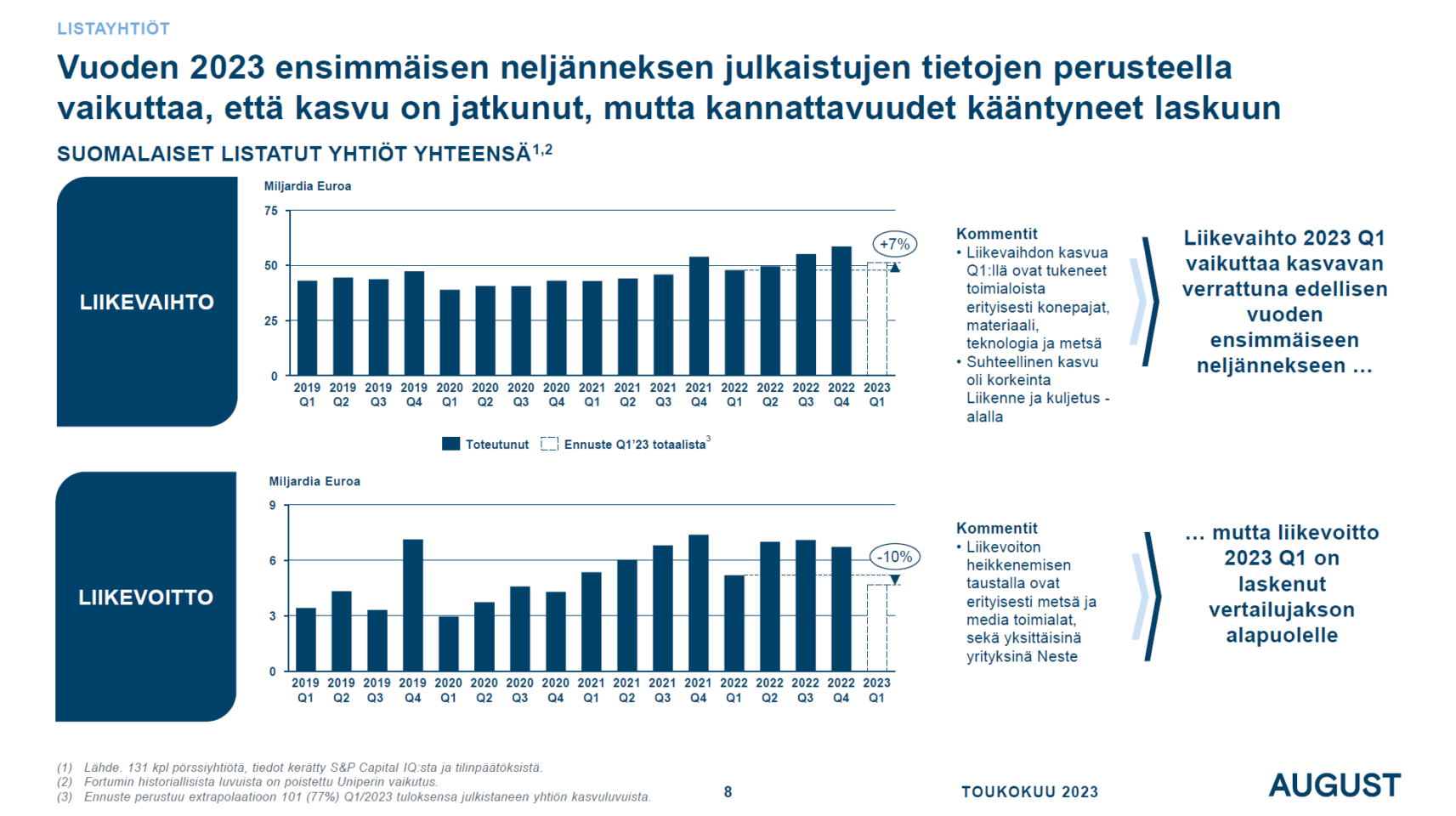 Accountor provides software solutions and outsourcing services for finance and HR. Thanks to its digital finance and accounting solutions, Accountor is uniquely positioned to accumulate real-time data on Finnish Small to Medium sized Enterprises (SMEs). More on their website.
Olli Lehtonen, Partner
+358 50 371 4110
firstname.lastname@august.fi